balance in life

dynamic fusion of martial arts, qigong and core energetics moves
for empowerment and well-being
Tao Spirit is the culmination of my 35 years of training and teaching internal martial arts and embodied meditation practices.
It is a powerful synthesis of four martial art styles as well as a selection of movement and energy development techniques from the systems of Tai chi, Qigong and body-based Psychotherapy. Tao Spirit is invigorating and loads of fun as we celebrate our soft and strong energies and welcome our true power.
I am looking forward to offering this work to all women who would like to build their focus, strength and aliveness, and enjoy life with more confidence and fuller self-expression.
Online Classes are coming soon.
Please register your interest here.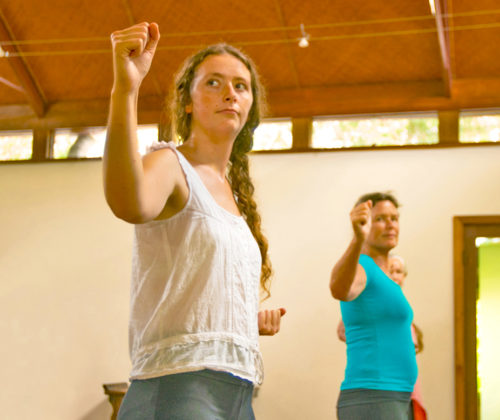 Student Testimonials
hover over the text to pause slider
Paul, Organic Farming Teacher
I am most grateful for the commitment and compassion of our Tai Chi teacher Shirsha Marie. For 10 years now I have been practicing Tai Chi at the Centre here in Byron Bay and have been able to free my body from back and joint pain. Tai Chi has helped me to move to a deeper and more satisfying level of meditation. There are so many benefits for mind body and spirit from this ancient art.
Paul, Organic Farming Teacher
Megan, Management
I have been attending Shirsha's classes since February 2018 and practicing most days each week at home or by the river. Shirsha is an excellent teacher, her style is warm, clear and very thorough and her depth of knowledge is evident. I have received so much benefit from Qigong. It centres me, relaxes and calms my nervous system and energises me, all at the same time. I sometimes have issues with restricted breathing which this practice helps. It's even improved my eye sight as attested by my optometrist. Thank you Shirsha!
Megan, Management
Laura – Poet
Thank you so much for the one day Life-force Workshop. I loved the yang kicks and blocks followed by the yin flow of qigong. I felt energy streaming through my body. The meditations were sublime and the conscious walk was lovely. I would definitely love to do it again.
Laura - Poet
Anna, Lawyer
I have been practising Qigong with Shirsha for more than 4 years. Of all the exercise and movement forms I have tried over the years, this has been the most interesting and rewarding. Over time, I've experienced certain physiological changes which neither medical nor alternative therapies have been able to produce - but the form has much to offer beyond the physical, and my sense is that one gets what one needs from it. The teaching here is deep and refined, and every class reveals something new to me in the form. There is an ever-unfolding exquisite subtlety to be found here.
Anna, Lawyer
Tom, PhD. Consultant
I have been a Tai Chi and Qigong student with Shirsha Marie for 14 years. Without hesitation I can assert that the particular forms and style of practice I have learned over this period have enabled me to successfully manage a chronic spinal injury. With my instructor's guidance I have been able to change my body alignment, develop skills of balance and coordination, and gain strength and power. Shirsha has refined skills and a deep understanding of martial arts and energy work in general. The overwhelmingly positive energy of this large and beautiful school is available for all students in their practice.
Tom, PhD. Consultant
Dr David Retired Doctor
I am a doctor retired after forty years of medical practice in Byron Shire. As part of my quest in maintaining health into senior years, I have been attending Shirsha Marie's classes in Mullumbimby and Brunswick Heads and have also done a day Life-force Workshop. Shirsha is very dedicated to the healing traditions of Qigong and related Tai-chi and she makes it easy to follow with her clear demonstrations and explanations of this healing art which engages body, mind and breath.
Dr David Retired Doctor